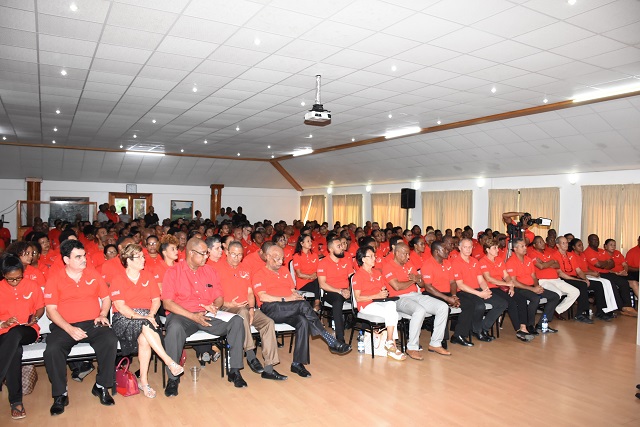 United Seychelles endorses President Faure as party's candidate for 2020 election
The United Seychelles political party (US) has endorsed the incumbent President Danny Faure as the party's candidate for the next presidential elections expected to take place in the fourth quarter of 2020.
Faure's nomination was endorsed at the party's 33rd annual congress held on Saturday at the Seychelles Trading Company's conference centre in the capital, Victoria.
Speaking at the event, Faure said that by choosing US, "I have come home, to my family, the party where I was born and raised and where I will remain."  
Faure was the only candidate to submit an expression of interest to be the United Seychelles party's presidential candidate for the 2020 elections.
He announced his intention to stand as a US candidate in a special address on May 29.
Faure, who distanced himself from United Seychelles – formerly Parti Lepep – after becoming president in 2016, told the congress that the country needed a party that would unite the nation. He said that has been his style of leadership for the past three years.
"Seychellois are tired of a divisive politics where politics is in everything — in the cost of living, poverty, trafficking and drug abuse, the country's security and our territory. All of this created confusion, frustration and uncertainty among our people," he said.
Faure's nomination was endorsed at the party's 33rd annual congress held on Saturday. (Joena Meme) Photo License: CC-BY    
He told the congress that distancing himself from the party to which he has always been a member was done in the interest of the country.
"Whatever I did was for Seychelles' best interest and unity. I had to make difficult compromises to ensure the country prospers. That is why I was leading a government which is inclusive, transparent and where everybody is accountable."
He added that "United Seychelles' vision was sacred and was more than a dream. When I say Seychelles is bigger than all of us, I mean exactly that. Seychelles is bigger than all of us."
Prior to the congress' approval, Faure had to present his vision for the country in line with the party's constitution. He also had to declare his assets and liabilities which were vetted by the party's Ethics Committee.
For the post of vice-president, the National Executive committee of United Seychelles will set a date for the presidential candidate to choose his running mate.
United Seychelles, previously Parti Lepep, has won all presidential elections since the return of multiparty democracy in 1993.
The party lost the legislative elections for the first time in its history in 2016. Also for the first time the President of Seychelles, an archipelago in the western Indian Ocean, is not the leader of the ruling party. 
Faure, who was the running mate of former President James Michel, took over power when Michel resigned less than a year after winning the 2015 election.  
Source: Seychelles News Agency